On Reminiscin' Baguio
It's been ten years since I set foot on the city of Pines. Although the visit was short, I have enjoyed the way my daughter did.
Around 10 pm we set off to Baguio thinking that our drive will be a smooth one. Oh but I never thought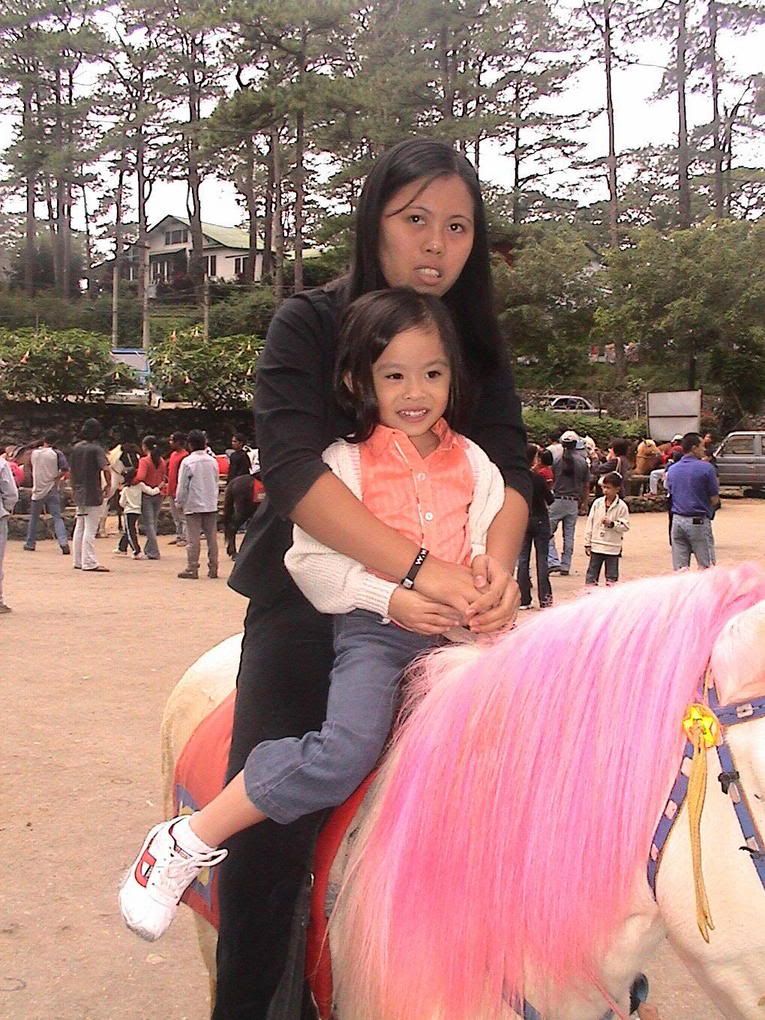 I live in the Philippines where there are no boundaries to traffic jams. But what the heck, I'm with my sweetie who I truly missed for the past month. We had several stops to do our stuff. The first one was in Caltex somewhere in Pangasinan, the two had coffee to awaken their senses (it was effective I guess!).We felt hungry and had to stop again at another Caltex station. We got lost but we still managed to find the right route through the help of some locals we passed by. We arrived baguio around 5am. We slept right away since a beautiful morning is waiting for us. The first thing we did was accompany my daughter to ride a horse. She enjoyed a lot!! I enjoyed too by merely looking at her. At first she was hesistant to ride but with a little encouragement she agreed. Then after we went to Camp John Hay where we ride the bump car, visit the playground, take some pictures, take more pictures and ate at Carlo's Pizza. The pizza served was awesome but the rest(buffalo wings, Alredo, Spag Meat Sauce).....I couldn't tell. Thenafter, we take a nap so we could have more energy when darkness set in. We attend mass at St Joseph Church at around 5pm. I even saw Alfred, my neighbor in Laguna who were also there with his officemates. After mass, my father in law and Aris bought our dinner while we went to the Ukay Ukay in front of Burnham.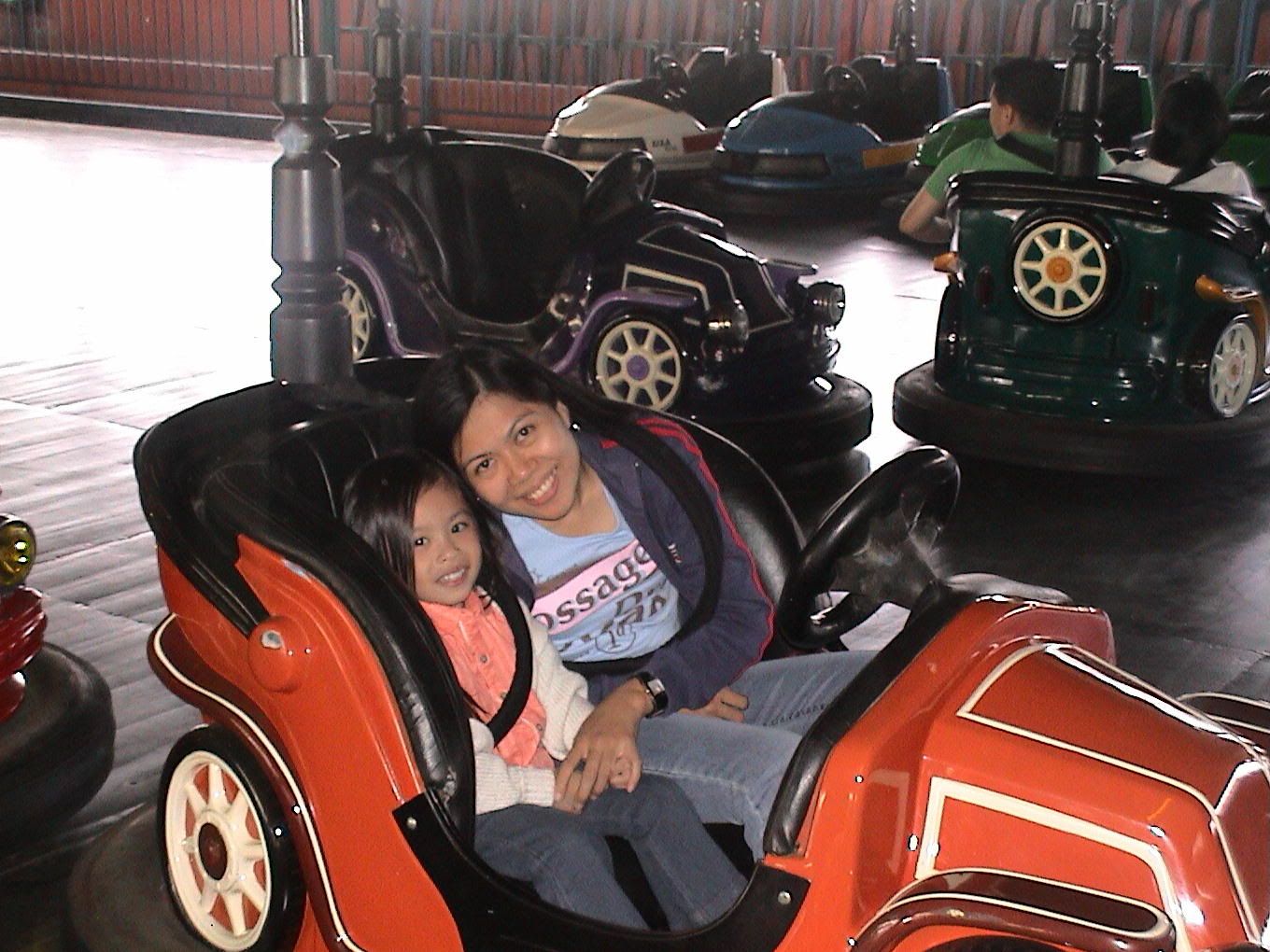 This is my chance to check it out. Anyway, I bought a cutesy white skirt that I have been looking for in Manila. Thank God Ukay Ukay was invented! Who invented it anyway? We ate a sumptuous dinner of Sugpo, grilled eggplant, Daing, and Crispy Pata. Yum! AT Gimik hour, we went to Nevada Square where the 'English-Speaking' Kids go to. The place was packed with security guards? Why is it so? I dunno, but their mere presence tells something. We checked out Beehive and drank and ate again!!! Our next stop was Gimbals were I enjoyed the most! The in-house band sang the bestest song you could ever imagine. Hip Hop, I love hip hop. It makes me dance and groove like I was the only person there. I just loved the music. They played the tunes of Usher, Nelly, Black Eyed Peas, 50 Cent and others.
The following morning, we went to Mine's View park, just a few meters away from where we stayed, Europa. There's not much to see at the Park, we just had our pictures taken.
I also checked out some stores there but it is just the same with the others, nothing really special. We had lunch at Cafe by the ruins. I love the place and I love the food. Although the interior was an artsy type, I felt a little freaky about it. A picture of the guy was all over the place, ahh you will notice. Probably he's the artist behind the design. There was also a chair that seems to have eluded from the olden times. It was like an electric chair with all those ancient artifacts embossed. I felt like there are curses or spirits that envelopes the place. Maybe my imagination goes too far. Or Maybe I just don't know how to appreciate arts?
After that sumptuous meal, we went to Burnham park to ride and row a boat. We had fun, yes, eventhough the boat was a little old and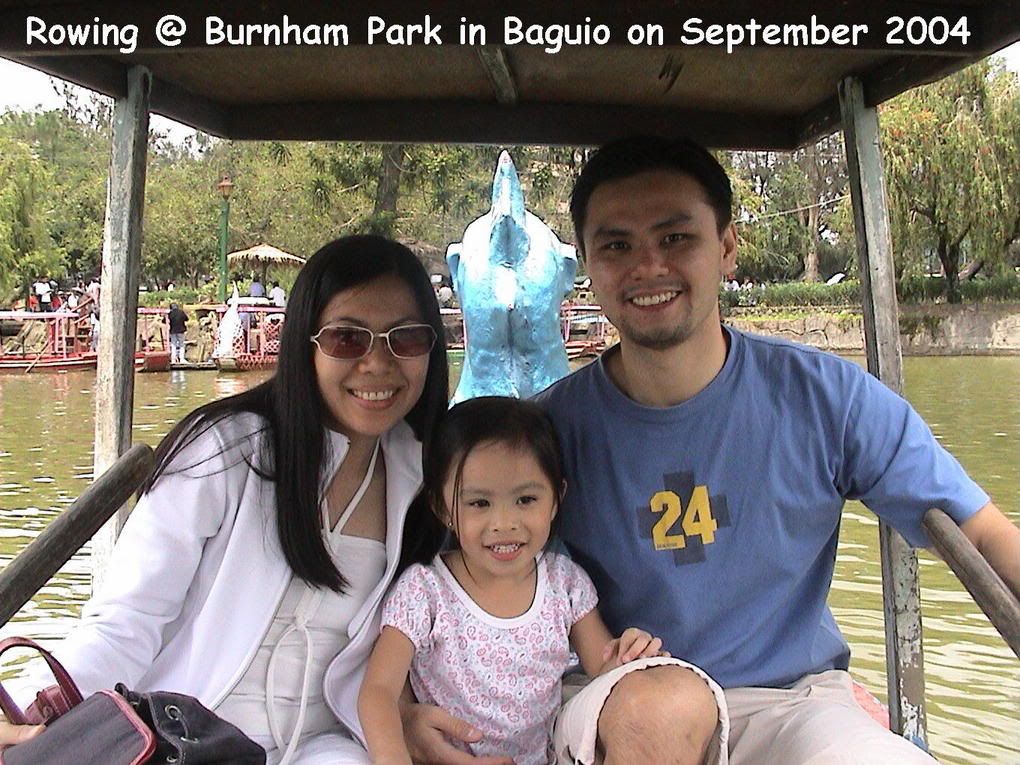 the lake was truly filthy. We had fun because it was Zabe's first time to ride a boat. It was also my first time, I guess. Thenafter we went to SM Baguio. I like SM Baguio! I felt home, well except that the weather is a little cold. Both sides of the mall are open so you can actually feel the cold wind blowing on your face. We stopped there to buy some groceries because Joel is leaving the following day and he won't have time to do the shopping. Finally our energy has come to the lowest level that we decided to go back to Manila. Driving home, Zabe was sleeping the whole time. I would still go back to Bagiuo when time permits. I still want to visit the places I've never been to. I'd like to go back to Ukay Ukay and by then I will make sure I have ample time to do the shopping.